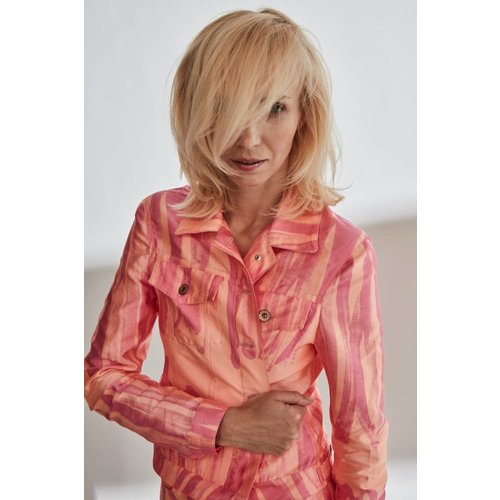 " The City Beach"
SPRING - SUMMER 2019
* Modern urban waterfonts have morphed and evolved into a new type of metro-enviroment.
The breeze-back , devil-may-careshoreline attitude is the same , but the high-energy heartbeat and accelerated pulse of the city provides quicker pace and edgier more turned-on contemporary rhythm.
* As a bold new hybridized urban-beach culture stretches across Europe in cities like Amsterdam, Paris and Berlin and out further afield in places like New York, Los Angeles, Hong Kong and Yokohama, a diverse fusion has emerged  naturally from the boardwalks and tram stops that link them tot the city.
* Latin- Western outfits and style-mixes from 80's musician Yana Ya Ya have inspired a range of burn out printed tees, recycled jersey dresses, colourful Italian jacquard jeans-style tops, skirts and jackets.
More formal elements blend in without apology including, recycled washable summer-weight stretch-wool suiting, ultralight organic cotton poplin draped dresses, hand-pliss'ed shiarting and a brand new jewellery concept to accessorize and individualize each unique look.